Revolutionary Solution for Pump System Monitoring
Where is the opportunity?
About 85% of the total cost during the service life of the pump is for electricity. The rest is for maintenance (10%) and purchasing the pump (only 5%).
So, the opportunity for huge savings is in reducing the electricity required to operate the pumps. And our solution can help in achieving that goal. Furthermore, the system facilitates maintenance and reduces its cost as well.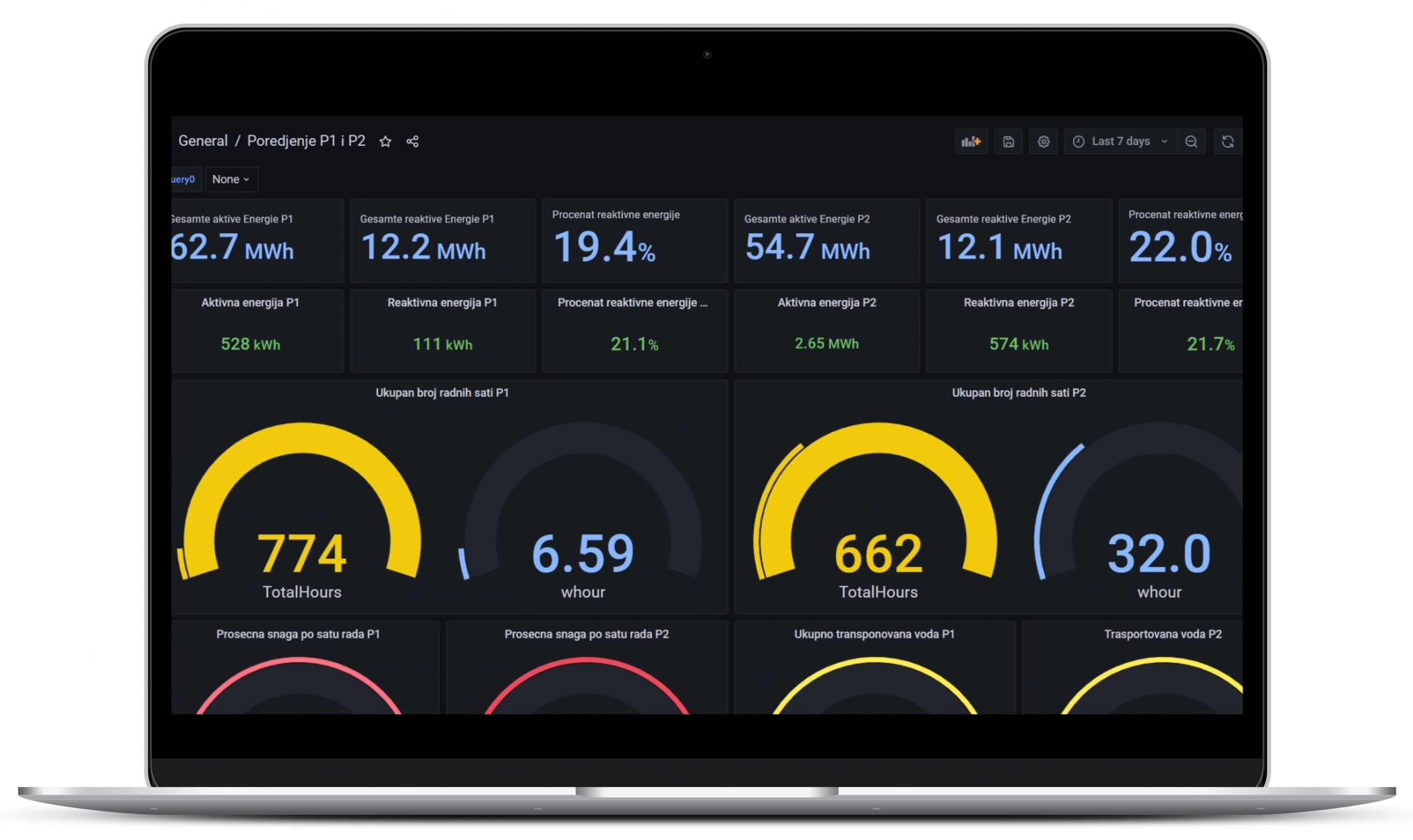 How our system does that?
Energy efficiency monitoring
The system continuously monitors the energy efficiency of every pump in the water or wastewater system by measuring and monitoring the electrical parameters of the pump power supply.
It requires basic information of installed pumps such as pump type, optimum flow parameters, etc. That information is usually already available in the cloud application or is given during the configuration and settings of the concrete system. Then, the system returns the type of curve according to the pump operating parameters and sends it to the NTPM measuring device connected to the pump power supply.
NTPM sensor constantly monitors active and reactive power, and power factor and raises an alarm when the current operating point drifts more than ±10 % from the optimal point.
Data analysis
The system collects and stores all measured and calculated data and uses them as a powerful tool to improve the efficiency and reliability of the water system. Application analyzes gathered data effectively, providing information that can help in strategic planning and maintenance. Your making of decisions is guided by actual data rather than guesswork.
You can see at a glance what pumps perform well and what pumps need to improve efficiency or to be overhauled or replaced.
System based on NTPM Sensor and Hive platform

NTPM Sensor
NTPM Sensor is configured specially for each pump unit and connected to the pump power supply. Its main task is measuring and monitoring the electrical parameters of the pump supply and providing them to the dedicated pump monitoring software.
Measured data and special software enable monitoring of operating parameters and efficiency of the pumps in the system. The data of each pump is crossed through the special software and further analyzed.
NTPM sensor raises the alarm as soon as inefficiency in pump operation is detected. It uses 3G/4G/5G communications to inform about detected inefficiencies.
Additionally, NTPM sensor performs power quality analysis and protects the pump in case of power quality disturbances. Thus it prolongs the service life of the pump and protects your investments.
Hive Cloud Software
Netico Hive is a modular, scalable, and redundant IoT application based on microservices that includes:
Data collection services to collect measuring data from connected NTPM sensors.
InfluxDB time-series database for storing measurements with timestamp
Relational database to store sensor configuration parameters and pump data.
High speed, advanced processing of collected data including the application of machine learning and advanced analytics
Graphical user interfaces and dashboards adapted to the user.
Creating various reports according to user inquiries
Interface to other systems, such as SCADA, DMS applications, billing services
Find Out More
What our solution provides?
Complete monitoring of pump system

Analysis of pump operating parameters

Quantification of energy efficiency of individual pumps and pumping facility

Permanent online monitoring of all pump operating parameters and integration of the obtained data

Data analysis according to user inquiries

Daily, weekly, monthly and annual pump efficiency reports
Advantages
The system features easy installation and simple integration. It's a pre-integrated system that doesn't require special sensors. That makes the system extremely cost-effective, allowing for monitoring low-cost pumps.
The solution is suitable for any water pump type as it already has a pump database implemented in Hive cloud software. It is especially suitable for immersion pumps as it doesn't require special sensors. Only measures the electrical parameters of the pump power supply.
The same solution, whit minor modifications, can be used for monitoring:
HVAC operations
Oil pumps
Special industrial pumps


Online monitoring of all pump operating parameters

Reduce operating and maintenance costs

Predicting the period until the overhaul

Increase pump system efficiency